Headquartered in San Diego, CA, and with locations around the U.S. and the globe, General Atomics is one of the world's leading companies specializing in defense and diversified research and technology development.

Spotlight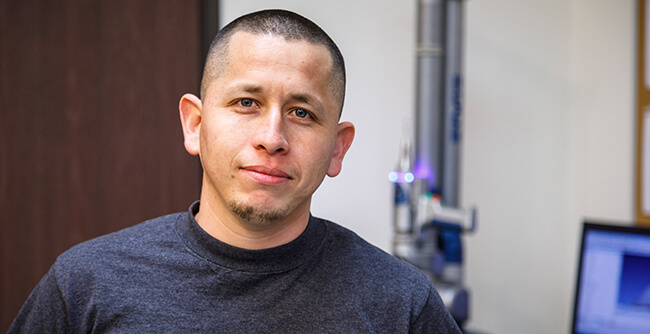 "I get excited coming to work each day because of the people I work with."
- Marcos, Quality Inspector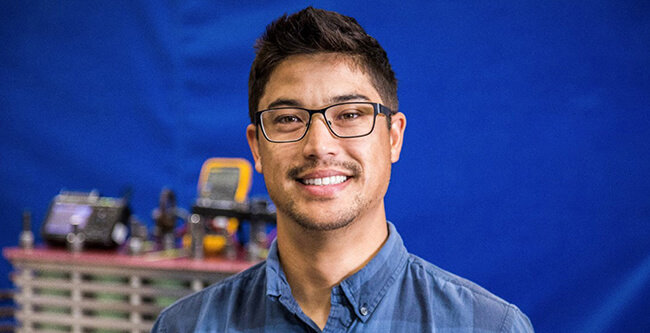 "It is exciting to design and maintain equipment that will have a large impact on aircraft carriers for the next 50 years. Also, the people really make coming to work really fun."
- Jarred, Mechanical Engineer at EMS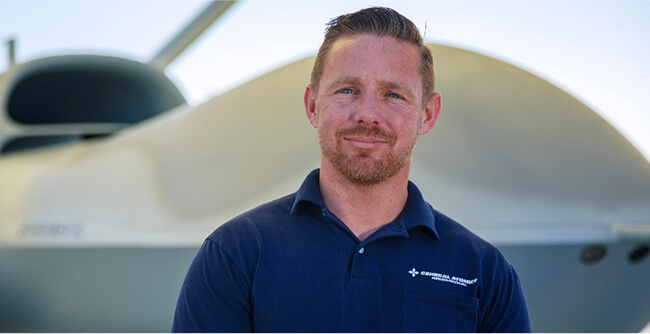 "I wholeheartedly believe GA supplies the tools that directly contribute to ensuring safety and security for people all over the world. Stability is also important to me. I can trust this company will be around for years to come."
- Brandan, GSE Supervisor
Featured Locations
Poway is a unique community in San Diego County with a population of more than 50,000 residents. Located in northeast San Diego County, Poway is known as "The City in the Country" and prides itself on the fact that over half of the city's 39.4 square-mile area is preserved as dedicated open space.
The community offers a diverse range of housing options, an outstanding school district, a thriving business park with over 19,000 jobs, a broad range of dining and shopping opportunities, beautiful parks, over 55 miles of trails, numerous community events throughout the year and more. Poway is a great place to live, work and play.
Approximate number of employees: 6,000
Jobs we typically hire for:
Marketing
Interns
Cable Fabricators & Assemblers
Tool Makers
Composite Technicians
Machinists
Analysts
Quality Inspectors
CNC Programmers
Buyers
Production Planners
Material Controls
Software Developers
IT
Human Resources
Logistics
Engineering
Compliance
Purchasing
Accounting and Finance
Technical Writers
Program and Operations Management
Facilities
Search Poway Jobs
San Diego is a city on the Pacific coast of California known for its beaches, parks and warm climate. Immense Balboa Park is the site of the renowned San Diego Zoo, as well as numerous art galleries, artist studios, museums and gardens. A deep harbor is home to a large active naval fleet, with the USS Midway, an aircraft-carrier-turned-museum, open to the public.
We currently operate facilities and offer positions in the following San Diego areas:
Rancho Bernardo
Rancho Bernardo is a beautifully planned community in the northeast hills of the city of San Diego, California.
Approximate number of employees: 1,300
Jobs we typically hire for:
Engineers (Mechanical, Electrical, Project, Quality, Software, etc.)
Scientists
Technicians
Mechanical
Material Planners
Program Managers
Contracts and Purchasing
Torrey Pines
Torrey Pines is predominantly a residential community and one of the northern coastal areas along the momentous Highway 101 located just north of La Jolla.
Approximate number of employees: 2,200
Jobs we typically hire for:
Engineers (Electrical, Software, Project, etc.)
Scientists
Buyers
Program Managers
Accountants
Legal
Information Technology
Human Resources
Contracts and Purchasing
Publications
Compliance
Sabre Springs
Sabre Springs is an urban community in San Diego, CA, located in the northeastern part of the city surrounded by several coffee shops and restaurants along with business parks.
Approximate number of employees: 1,300
Jobs we typically hire for:
Quality Inspectors
Quality Engineers
Material Control Coordinators
CNC Machinists
Tool Makers
Composite Technicians
Production Supervisors
Manufacturing Engineers
Manufacturing Interns
Operation Program Managers
Search San Diego Jobs
Huntsville is an up and coming research, technology and high-tech manufacturing center in the extreme north of Alabama. It is known as the "Space Capital of America". Huntsville is quite attractive, with mostly modern buildings in a wooded mountainous setting.
Huntsville is surrounded by the Appalachian foothills and mountains ranging from 1,200-1,400 feet and is about seven miles north of the Tennessee River Valley. The climate is subtropical. The summers are warm, still and humid with frequent thunderstorms. Winters are cool with occasional snow.
There are over 50 parks within the Huntsville city limits. They have been designated a "Playful City USA" by KaBOOM! due to the city's variety of play opportunities for children as well as after school programs and parks that are within walking distance of homes.
Approximate number of employees: 140
Jobs we typically hire for:
Project Planners/Schedulers/Managers/Directors
Electrical Engineers
Space Systems Engineers
Contract Administrators
Configuration Management Specialists
Search Huntsville Jobs
Tupelo gives residents the best of small-town living and an urban lifestyle. It is the largest city of Lee county and sits conveniently between Memphis, Tennessee and Birmingham, Alabama. It has been nationally recognized as a five-time winner of the All-American City Award and is the birthplace of the King of Rock and Roll, Elvis Presley.
Today, the city is home to many large industries including manufacturing, technology and retail companies. Tupelo has been nationally ranked for its progressive economic development and job creation strategies. It has also been recognized for its progressive city-led health and wellness initiatives. The Tupelo Public School District has been awarded several honors in education excellence and boasts a top-ranking athletic program.
Over the years, Tupelo's tourism economy has flourished by promoting nationally known historic landmarks including Elvis Presley's birthplace and the Natchez Trace. With the combination of southern hospitality and metropolitan sophistication, you are bound to feel at home in Tupelo.
Approximate number of employees: 300
Jobs we typically hire for:
Machinists
Quality Engineers
Technicians
CNC Programmers
Project Managers
>
Search Tupelo Jobs
The High Desert is not a specific area or city, but is more of an unofficial, vaguely defined geographic area of Southern California. It is located northeast of the San Gabriel Mountains and was named for its higher elevations, cooler climate and northern latitude compared to the Low Desert area.
The region is made up of four counties, with most of the population residing closer to Los Angeles and San Bernardino. The greater Los Angeles County contains the Antelope and Santa Clarita Valleys. The San Bernardino County portion encompasses Victor Valley and is part of the Inland Empire.
The High Desert has a diverse climate and topography, which allows residents to enjoy seasonal outdoor activities. Hiking, fishing and a wide range of winter sports are a favorite for locals. Rich with years of Hollywood history, the High Desert is frequently used as a backdrop to some of Hollywood's biggest blockbusters. Jurassic Park, Jarhead, Kill Bill: Vol. 2, Erin Brockovich, Fast & Furious (franchise) and Valkyrie, to name a few. The High Desert has so much to offer — it's easy to commute to local businesses and urban areas for work or school, and all at a reasonable and affordable price.
Approximate number of employees: 1,800
Jobs we typically hire for:
Flight Operations
A&P Mechanics
Avionics Technicians
Integration Technicians
Composite Techs
UAV Pilots
Engineers (R&D)
Administrative Staff
Manufacturing Interns
Management
Search High Desert Jobs
Meet Our People